"Keeping R&B alive and positively kicking."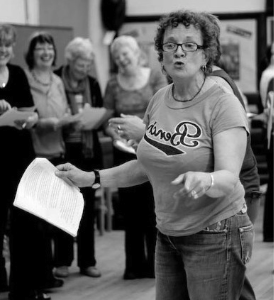 Helen Watson is a unique performer whose versatile voice and idiosyncratic songs blur the boundaries between blues, soul, jazz and folk. Throughout her long and varied career she's collaborated with some of the best musicians in the business - Albert Lee, Little Feat, the Eagles' Bernie Leadon, Andy Fairweather Low - toured with the legendary Joe Cocker, sung with Emmylou Harris and Linda Ronstadt and worked with some of England's finest, including Christine Collister, Chris While and Julie Matthews.

Helen's albums have always been warmly received - especially the Fledg'ling label trilogy of "Somersault", "Doffing" and "Lifesize" - but she's a singer who's at her best in front of an audience where her natural warmth, sense of humour and vocal virtuosity combine to produce her trademark powerhouse performances. Recently she's been gigging with Burden of Paradise (Snake Davis sax, Dave Bowie double bass, Mark Creswell guitar) and in late 2008 teamed up with Mark to produce "Headrest", her first new album in six years. It features blues, ballads, dance, rock, country and more. Since then Mark and Helen have made "Fiver" - totally self explanatory, five songs written by them and costing, yes, a fiver! The most recent production, 2012, is "Tarpaulin" featuring Helen, Mark and Dave Bowie Junior, ably assisted by Sam Hobbes. This is a sequel to "Doffing", a true treasure. 11 songs that have been in the live set for some time but never before recorded. The songs may, or may not, be familiar but in an industry that's increasingly geared towards producing the next 'just-add-water' pop star is yet another reminder that the remarkable Helen Watson is one of a kind.

Want to know more? Download Helen's
full biography
.
"There's no arguing with claims citing Helen Watson as one of the country's premier jazz blues singers."
- Live review from RONNIE SCOTTS
"Helen Watson is a long neglected gem who's keeping R&B alive and positively kicking for anyone willing to listen."
Siobhan Long - HOT PRESS
"Helen Watson, blessed with excellent phrasing and control she slips effortlessly from breathy, seductive jazz to gritty R&B."
- FOLK ON TAP